Band
| Željko Topić – Vocal | Miroslav Čačija – Guitar | Darko Dimovski – Guitar | Danijel Scuric – Bass | Dragi Ilic – Drums |

Biography
Kein Engel is a Croatian tribute to band Rammstein. The band was formed in 2010. in Bjelovar, with the idea for creating live representation of the industrial metal giant. It consists of five experienced and passionate, studio and performing Croatian musicians. For the most recognizable part of the Rammstein's music, electronics and production, credit takes legendary Croatian DJ and producer Seraphim Codex.
In 2010., the band held their first concert in their hometown Bjelovar. Soon after, Kein Engel held their concerts in other Croatian cities like Križevci, Pula, Rijeka and Koprivnica. In September 2011., it was turn to perform in the Croatian capital Zagreb, where the band was highly accepted by the public. In the following months, the band performed in the second largest city in Croatia – Split, and then in Varaždin, Osijek, Čakovec, at the festival in Čukovec and at other occasions in other cities. Regarding the concerts abroad, Kein Engel performed in Bosnia and Herzegovina, in the capital Sarajevo and in Slovenia in Brežice.
Kein Engel's shows lasts for about two hours, supported with custom produced video projections. Altogether, Kein Engel has currently performed more than 30 times and is looking forward to future gigs!
Associates
| Seraphim Codex – DJ, Producer, CyberPunker |
One of the pioneers of the second generation of Croatian electronic music artists, Robert (aka Seraphim Codex) is enjoying almost 20 years as one of the well known players in this beautiful part of the world. His first vinyl release was in 1994. (Force X – Eyes of Destruction) on Loving Ed Records, and ever since he has enjoyed great success as a producer with releases on labels such as Proton Music, Super8, Balkan Connection & BodyJack, which he first showcased as a live act at the legendary "Futureshock 2001" raves between 1993. and 1996. (at that time with Berislav Oremuš)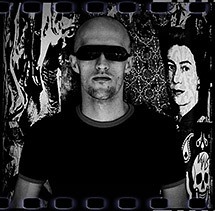 As a DJ, Robert has had a hand in some of the most prolific Croatian dance projects such as Hartera Festival in Rijeka, MTV Valkana Beach, the famous Dubrovnik NYE Celebrations & so on. But he is most proud of his residency at fellow Croatian techno legend Petar Dundov. "Perfection" nights in Zagreb, where he gained a residency in 2002., gave him enormous exposure as a DJ. As for the here and now, Robert continues to have a hand in most of the major parties in Croatia & had played alongside the likes of Carl Cox & John Digweed to name but a couple… Production wise, in 2006. Robert won the Croatian Heineken Thirst Studio Competition and traveled to Los Angeles to produce with BT (Brian Transeau). From there he went on to the world finals held in Las Vegas where he played at the infamous Tao Club alongside Paul Oakenfold, Gabriel & Dresden, Steve Aoki & others. This aside, the list of who's who in Electronic Music that has shared a stage with Seraphim Codex over the years is insanely long & interesting (Ritchie Hawtin, Sven Vath, Pascal FEOS, Dave Clarke, Jeff Mills, Joel Mull, Petar Dundov, Soulwax, Paul Van Dyk, etc.) & not only crosses continents but all styles of this wonderful thing we call EDM. 2011. sees him collaborating with Damir Martinović – Mrle from iconic Croatian band "LET3" on projects connected with theater and audiovisual production. "Collaborate! Learn from everything & everyone. Invent. Feel.", he shouts, and by doing it for almost 20 years on the global dance scene, it is paying back. There is no doubt as to why Seraphim Codex stands out amongst the many great artists we have the pleasure of enjoying today.
| Hrvoje Komljenović – VJ, Video Producer, Programmer, Band Shrink | Damir TIćak – Video Producer, Cameraman | Jelena Mužar – Singer |
Cooperation
Kein Engel has a great respect for Rammstein supporting communities, with whom it had a chance to work with. Great thanks goes to all who were supporting Kein Engel in any way.
Kein Engel is open for all means of potential cooperation with the clubs, communities and individual fans of Rammstein's music and sounds of industrial music in general, with the goal of promoting work of band Rammstein, and the lifestyle of the same name.
Band logos